I didn't plan to build this.
In March 2020 we had to
shutdown our YC W19 company
and a few months later I turned to my fellow YC founders for work.
With very little savings in the bank as an early stage founder, I turned towards freelance work for the first time in my life.
I posted my previous work and some side projects in the YC forum and asked if anybody had a short-term gig for me.
Quickly, more than 10 companies have reached out to me – to a point where I had to create a Typeform to keep track of everything.
But I wasn't the only one shutting down.
While the VC funding and startup landscape is slowly recovering, we've experienced a horrible wipe-out of ambitious startups and its founders during the
black swan of 2020
.
I've seen other friends shutdown their startup or struggle to keep their burn-rate under control with a sudden fallout of revenue.
Some of them reached out to me, others I've contacted asking if they wanted to do one or two projects.
Shortly after,
BookAYCTeam.com
was born.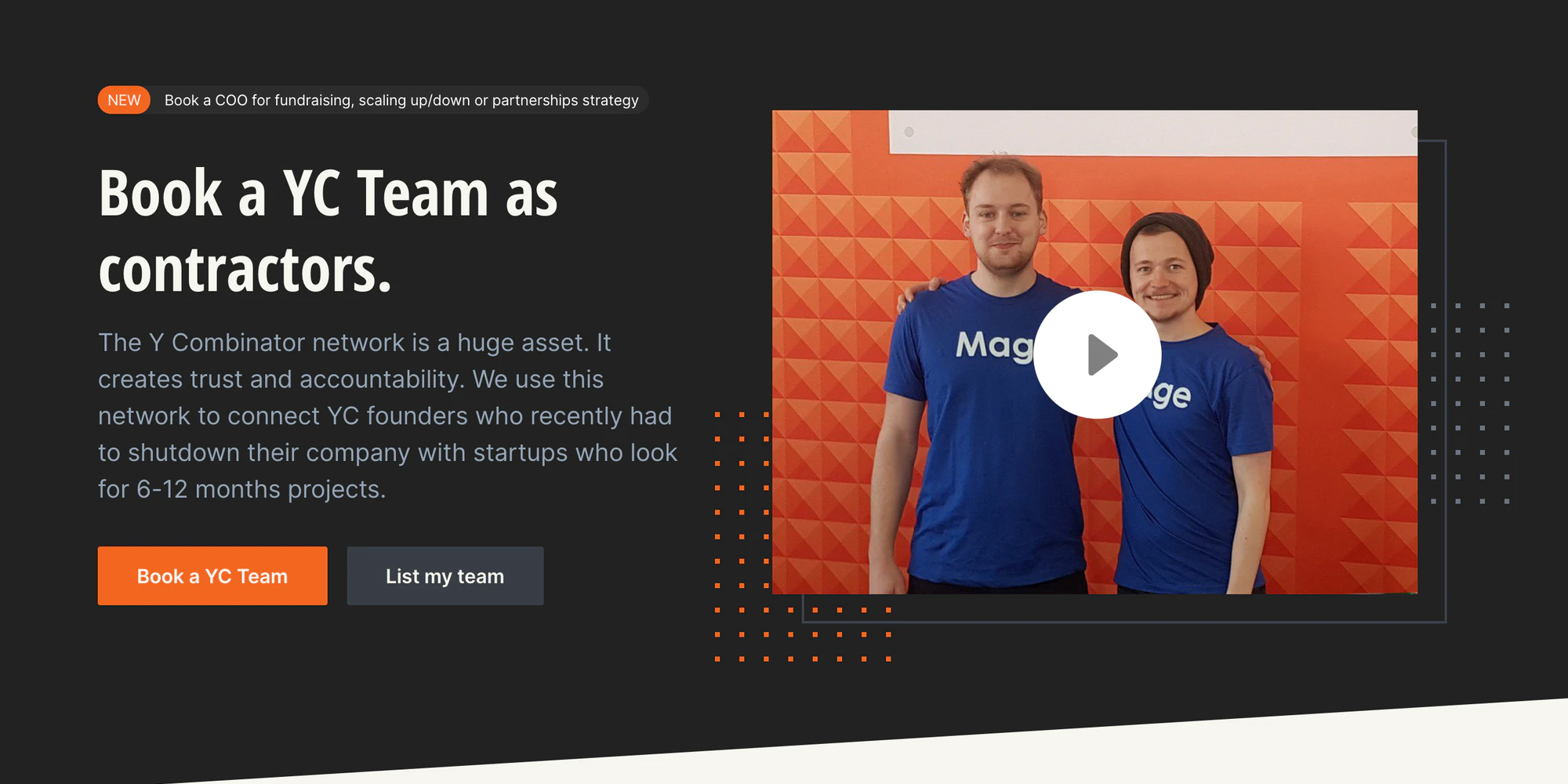 A Typeform connected to a Slack Channel with YC Alumni looking to help each other out while extending their personal or business runway.
Within a few weeks the Slack group grew from 5 YC Alumni to more than 25 and projects valued over $2.3M in total have been created by 45 companies.
Book A YC Team was featured in the
My First Million
Podcast Episode #69 by The Hustle & Shaan Puri and things were getting interesting.
Pondering
One of the YC teams who are in the travel industry and were unable to raise from investors, managed to extend their runway by more than 6 months and keep all of their employees on payroll.
My first vision of Book A YC Team was, that it would serve these teams a short term way of refinancing their startup, without laying off anyone or failing at raising a bridge round.
Surprisingly though, most projects were done by a single person (not a team) and two months after launch something unbelievable happened:
Three YC Alumni joined three other amazing YC companies in full-time positions.
I did not expect this.
There is this black/white misconception that you're either an entrepreneur, or an employee for life.
In reality, when hiring, many
many many
founders are looking for other team members with an entrepreneurial spirit and there are plenty of founders who are happy to be in the co-pilot seat, after having a crushing journey of several years flying their own plane.
However, the current job market has failed them.
These top talents don't apply for the classic job descriptions on lever.co or even more unlikely work as a freelancer on a short-term platform like Fiverr, Upwork or TopTal.
They are hungry, ambitious and most notably: swamped with direct messages from recruiters on LinkedIn sending them vague job descriptions like:
"We are a vision driven company on a mission to elevate the world's consciousness"
I call BS.
"I want to know what I'd be working on and what it's like to be part of their team."
Is what every founder I've interviewed replied, when I asked them about the best way to join another startup.
---
The Pivot
We realised that the "contract-to-hire" model is the only way to de-risk hiring and offer founders a way to look behind the scenes, before committing to sign a full-time job offer.
On 22. August the fully functioning webapp was launched on
Product Hunt
and BookAYCTeam was renamed to
LEAN
HIRE
to apply the lean startup principles to hiring:
Hire.
Build.
Measure.
Learn.
Every "lean hire" starts with an initial project and on completion the hiring company and contractor can engage in a long-term engagement or part ways.
That's it. That's the story.
I didn't plan to build this, yet here we are.
Cheers,
Peer
Creator of Lean Hire,
previously Co-Founder and CEO of Mage (YC W19)